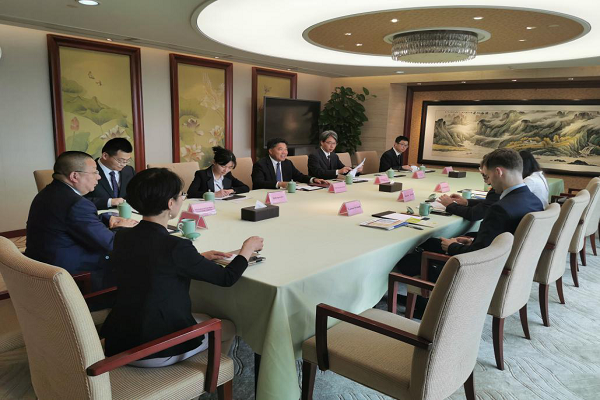 On May 27, the Consul General of the Czech Republic in Shanghai Karel Srol came to Zhejiang Department of Commerce. Director-general Sheng qiuping received the delegation.
Director-General Sheng Qiuping extended a warm welcome to Mr. Srol's first visit to DOC Zhejiang, and called it a continuation of the long-term friendship. He offered an overview of Zhejiang's economic and social development, introuduced Zhejiang's special role as the cradle of Chinese revolunary'Red Boat', the forerunner of reform and opening up, and an important birthplace of Xi Jinping Thought on Socialism with Chinese characteristics for a New Era.
Sheng Qiuping referred to the Czech Republic as one of Zhejiang's most important partners in Central and Eastern Europe. The cooperation has a long history. In recent years, bilateral trade and two-way investment have grown rapidly, showing a good momentum. With the China-CEEC Expo and the China-CEEC Economic and Trade Cooperation Demonstration Zone, Both sides are endeavoring to introduce more quality Czech products to Zhejiang market and promote more investment and projects.
Consul General Srol thanked Sheng Qiuping for his enthusiastic introduction and expressed full confidence in cooperation. He said that a number of cooperation plans for Zhejiang had been formulated. Also, The Consulate will support Czech companies to participate in the China-CEEC Expo and expand their presence in China. For Chinese investors, the Consulate General will provide visa convenience and relevant service. Much is to be anticipated in Zhejiang's cooperation with the Czech Republic.